The 1059AF enables the detection of audio on 50/60 Hz 115/230 VAC power lines. The unit is powered by voltage supplied through J4 of the 1059 preamplifier.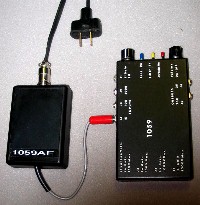 OPERATION: Insert the plug from the 1059AF into J4 of the 1059. Turn J4 VOLTS ON and place the FILTER-IN switch in the up position. Plug the input cable into the 1059AF and an AC outlet. FOR SAFETY REASONS, THE INPUT CABLE IS EASY TO INSERT AND EASY TO PULL OUT. Rotate the VOLUME control clockwise to turn on the 1059. Advance the volume slowly to listen to the AC line signal. If no audio is on the line, only random noise is audible. Audio signals from 10 mV P-P (millivolts peak-to-peak) and upwards are heard clearly. Power companies transmit metering data on the power line. This may be heard as a pulsed or warbeling tone or a rapid string of pulses. Other data or digital signals may create a fluctuating buzz or total suppression of the normal line noise.
It is sometimes helpful to use the "feedback method" by inserting a small audio amplifier, such as the Radio Shack MINI AMPLIFIER-SPEAKER (Cat. No. 277-1008C), into jack J6. For detailed analysis, plug an oscilloscope into J5.
The 1059AF may be used with any commercial or homemade amplifier by connecting +9 volts (Alkaline always) through a 4.7K ohm resistor to the center pin of the filter output cable. A .1 microfarad capacitor is run from the common point of the resistor and center pin of the plug to the audio amplifier. Connect the -9 volt lead to the shell of the connector. Use a shielded cable to connect the center pin and shell to an audio amplifier.