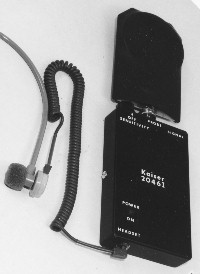 The 2046I detects the small burst of radio frequency (RF) energy generated when transistors, integrated circuits, relays, etc. switch from one state to another i.e. on to off or off to on. The 2046I indicates the presence of this radiation via a light emitting diode (LED) or as an audible click heard in the special 2,000 ohm headset (supplied). The distance at which this radiation can normally be detected ranges from 2 to 20 inches.
OPERATION: Turn the unit ON by rotating the SENSITIVITY control in a clockwise direction. The GREEN POWER LED indicates that the unit is ON. Turn the SENSITIVITY control clockwise to maximum. If the RED signal LED comes on, slowly decrease the SENSITIVITY until the light is barely extinguished. Insert the headset into the HEADSET jack. If the headset ear hook is used it can be adjusted for either ear. If the gray stethoscope tube is used , the tube is worn under the chin with the sound output holes facing slightly (30 degrees) forward. Do not use a low impedance headset. Pass the 2046I probe over the suspect package or area. The RED SIGNAL light will indicate the presence of a burst of RF energy or, as they are called, switching transients. These burst or transients are also heard through the headset as an audible click. Note the rate of the click to determine if their is any coherent energy i.e. a continuous, repetitive beat.
The probe may be remotely manipulated by inserting it into the extension cable supplied and fastening it to the end of a fiber glass pole. Use only the special high impedance coaxial cable supplied and do NOT attempt to shorten or lengthen it. The 2046I draws approximately 8 milliamps in stand-by and 20 milliamps in the ON state. Normal battery life (with Alkaline batteries) is approximately 40 hours of total ON time. The unit is powered by two (2) 9 volt Alkaline batteries. To replace the batteries, loosen the two screws on the side of the detector assembly one or two turns. Carefully lift off the back cover. Remove the old batteries and replace with fresh Alkaline batteries. Replace the back cover, being careful not to pinch the battery leads. Tighten the two screws (don't over-tighten).
OPERATING NOTES: The 2046I is a very sensitive low frequency detector that covers the frequency range (spectrum) from 5 to 150 KHz. It should be noted there are some conditions under which operation can be impaired. Probably the worst offender is the 15 KHz sweep oscillator found in all TV sets. The 2046I can detect an operating TV at distances up to 100 feet! Brush type motors, carrier current signals on power lines and local submarine communication systems can also cause problems. Always test the unit in free space away from the suspect package or area to determine the background noise (interference) level.
8/09
Back To EOD
Back To Products
Home